OPENING CEREMONIES – MONDAY EVENING (Sponsored by LA Galaxy)!
We are looking forward to our Opening Day Ceremonies on Monday, July 24th at 7:00pm at LA Galaxy's home field, Dignity Health Sports Park. Yes! Your player will be parading along the field of where the likes of David Beckham, Landon Donovan and Zlatan have played. Join us for a fun-filled evening to start the games off in spectacular fashion with the largest National Games parade of teams ever seen and the official opening of the games! Bring your camera for this once in a lifetime experience for your players.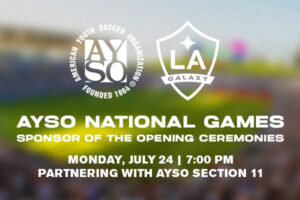 NEW!
Coaches – make sure to stick with your teams or set up a meeting place after the ceremonies.  Make sure each player is returned to their player!
Plan for traffic
Parking and admission is FREE!
Player check-in will begin promptly at the Southwest gate of the stadium at 5:30pm…teams should try to walk in together with their coaches and promptly find their Section sign.
Security will only allow two coaches with wristbands to enter with their players in at 5:30 into the secured area.
Spectator gates will open at 6:00pm.
All teams must be in uniform (at minimum a matching team jersey/shirt).
All people marching should wear sneakers (no cleats), as stairs and walking on cement are involved.
A clear bag policy will be in effect – please refer to the LA Galaxy website as to what is allowed to be carried into the stadium Stadium Rules
Referees – please refer to your referee newsletter for more information and requirements. All are invited to the parade, but we will need an RSVP from referees to guarantee seating.
More information/maps to come!